Is it possible to change social expectations around forced marriage, genital mutilations, and public health practices like vaccinations and sanitation? If so, how? What tools might we use? This short book explores how social norms work, and how changing them – changing preferences, beliefs, and especially social expectations – can potentially improve lives all around the world.
Drawing on several intellectual traditions and methods, including those of social psychology, experimental economics and evolutionary game theory, Bicchieri provides an integrated account of how social norms emerge, why and when we follow them, and the situations where we are most likely to focus on relevant norms.
2019 Spanish translated version of Bicchieri's Norms in the Wild (2016). A partir de una rigurosa investigación, Cristina Bicchieri ofrece en estas páginas elementos para entender cómo se relacionan las acciones individuales con los comportamientos grupales, y comprueba con evidencias que es posible transformar una sociedad a través de la educación y mediante las actuaciones individuales.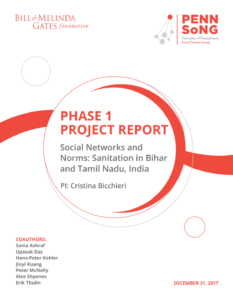 In the first phase of our study of the social determinants of open defecation in India, we have produced a report detailing how social networks influence latrine ownership. We also explore demographic predictors of ownership and use and how our findings differ from existing literature. We explore how these network data link to norms data in our Phase 2 report.
A Social Norms Manual produced for Zimbabwe and Swaziland as part of the UNICEF Office of Research's Multi-Country Study on the Drivers of Violence Affecting Children. This manual serves as a guide to key concepts in the social norms framework with examples pertaining to the countries and programming areas.
This study focuses on Rural ODF Status (exclusive latrine use in ODF certified villages – behavioral sustainability) and continued functionality of RWSS (drinking water only) in the geographic region of two provinces in Pakistan, Sindh and Punjab. Our chief role was to develop, integrate and analyze social norms measures as part of the larger sustainability check. This report presents those methods, measures and findings.